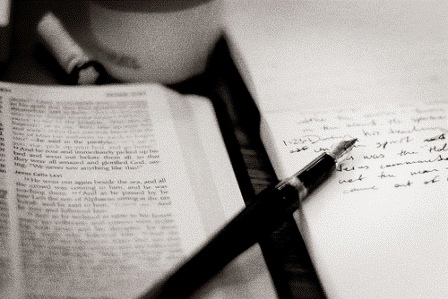 I own many bibles. So many, in fact, that I have lost count. I just bought another one a few weeks back (because I love the way it felt when I held it), and I had purchased another not too long before that. Despite the fact that my church projects the scripture readings via power point at the front of the sanctuary, I still bring my paper bible with me – even though I often don't even crack it open. I carry one in my bag at all times and pull it out regularly. I attend an old fashion bible study when I am able to make it on Friday nights where those bible drills I remember doing in Sunday School comes in handy. Paper Bibles are everywhere at that study – though once or twice I was the odd ball out by using my computer.
I have read the bible front to back at least ten times. The last few times I used my handheld "Franklyn" computer because it was convenient to pull it out at work. That was back in the 90's. I have not since read my bible through.
I generally know what's in there, but I hardly pull it out during personal study any more. Instead I rely on electronic sources to help me out. My favourite is the Online Parallel Bible. The advantage to using this online bible as opposed to some other bible programs or a bible concordance is the usefulness of its "search" and the readiness to the Greek and Hebrew. Unlike other electronic bible programs I have used in the past which require you to know how a verses is worded in a particular translation in order for the search to find a match, the Online Parallel Bible will search all of the available bible translations simultaneously to find a match to the verse you are looking for.
In the old days people would memorize their bibles in specific translations. This would help people find that verse they are looking for quickly. They always used one bible translation – say, the KJV or NIV – to guarantee they could find the passage via the concordance at the back. This was my approach back in the 90's, and the NKJV was my translation of choice. I have come to learn, however, that there are no perfect bible translations when studying and I tend to use a wide variety of them. I like the NRSV, the NASB, and the ESV. I tend to consult the (N)KJV from time to time, and I still go to the NIV frequently. As a result, while I may recall what the Bible says, I may not know precisely which translation words it the way I recall it. Thus I run my typing fingers over to the Online Parallel Bible to help me out.
Last year on Covenant of Love I encouraged my readers to read through their bible in 90 Days. It was the "90 Day's Challenge". Many people got behind this but only two got back to me having completely the challenge. One fellow blogger who reported that the challenge was fruitless, and my pastor who documented his journey (though it took him 110 days to complete the challenge, the fact that he followed through is impressive). I did not complete it.
My mind, in many ways, has grown slack. While learning the scriptures and struggling to understand the message in them is an indelible part of my life, and not a day goes by when I do not consult them in some way, still – and perhaps because of societal pressure of a busy life – I rarely take time out of my day to sit down it read a few pages of scripture.
Do you still read your bible routinely? Do you plan to read your bible through this 2011 year? How do you do your bible devotions: do you take a time out in the morning to do it? In the evening? Do you carry it with you and do it whenever you can? Do you never take time out to read your bible anymore?