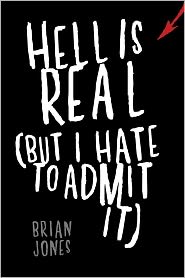 Hell Is Real (But I Hate to Admit It)
By Brian Jones
3.5 Stars (out of 5)
Hell Is Real was nothing like I had expected.  When this book was placed in my hands my first question was to know if it was somehow written in response to Rob Bell's Love Wins. But then I discovered that Hell Is Real is not due to be released until August 2011, and by then three other books would have been published responding to Bell. Yet as best as I can tell, it was written before Love Wins came on Jones' radar. Nothing in the book even hints at it.
My second surprise came in the first chapter where Jones shares his story of first believing in Hell, then attending a Christian seminary where he learned that the idea of Hell (in the traditional sense) was absurd, and finally – after pastoring for four years! – coming back to accepting the traditional view again. This is a story we don't hear very often. People who are raised in fundamentalism (as he clearly was) either dig their heels into their fundamentalists ways or run fool-headed away from it and into theological liberalism. Brian did run from his fundamentalist background and into a liberal view of Hell, but then he swung back and landed somewhere closer to the middle, as a conservative (theologically).
This is intriguing because Brian has a unique grasp of the key issues and a firm understanding of the arguments against the traditional view of Hell (he was educated at Princeton). After all, it was those arguments that convinced him that the traditional view of hell is untrue. The question on my mind (and undoubtedly on yours too) is what arguments re-convinced Brian that the traditional view is correct.
For most of my readers this may be where I will lose you, because like me, you're an analytical and critical bunch wanting to see hard evidence to make an intellectual assessment. But while Brian believes that the traditional view of Hell is clearly taught in the scriptures and holds to the conviction that it needs to be accepted on faith. He thinks the reason people trade in the traditional view of Hell (he'd say the "Biblical view of Hell") for something else is not because of the biblical evidence, but for some other reasons. Almost one third of the book is dedicated at exploring these various other reasons:
Ashamed:
"Christians stop believing in hell because they allow the non-Christians around them [to] make them feel stupid for believing in it." p.45
Deceived:
"Christians can negatively impact what another Christian believes. We can influence another Christian to stop believing in hell… When one Christian influences another to stop believing in hell, it has ripple effects throughout that person's life… If you rob a Christian of apocalyptic urgency, you lose every single non-Christian that single Christian could have reached in his or her lifetime." p72-73
Sidetracked:
"Any attempt to make [Christianity] into a religion that focuses solely on social justice falls flat and ultimately because ineffective. Likewise, any attempt to make Christianity into a religion devoid of social justice would be incomplete as well. It's never either/or in Scripture. But that doesn't mean evangelism isn't priortized." p.104
The chapter on "Wrath" was the most difficult one to get through. I'll admit, there were a few times I wanted to hurl the book across the room. When I hear people say things like, "The Christian God is a genocidal, filicidal megalomaniacal bully" (Dawkins, p.122) I get upset. But not Jones, he writes:
"Dawkins is dead wrong, not because he paints God with too cruel of a brushstroke, but because he's too flattering. The God of the Bible is far more vengeful than Dawkins could ever dream." p.122
Talk about a hard pill to swallow! The bad news, says Jones, is really bad. But this set up leads to the news that is really good. So in the chapter on propitiation he connects "Wrath" to "Holiness" saying that God is wrathful because he is holy: "Wrath is simply God's response to the presence of sin." Then in describing propitiation he writes:
"If you're having a hard time stomaching what truly lies at the core of Christian  belief (propitiation), you're starting to grasp if only in small measure, how truly strange Christianity really is."
The point is that the bad news is so shockingly terrible that it makes the good news all that much more shockingly good. The consequence of watering down the bad news is that you inadvertently water down the good news too.
The final third of the book really begins to working out the heart of Hell Is Real: it is essentially a track on evangelism. How to evangelize. What approaches to take. What approaches not to take (usually funny self-deprecating anecdotes are told!). And all of this goes back to chapter two which is both the heart and the purpose of this book: Apocalyptic Urgency.
"The heart of this book is about one simple idea – something I call 'apocalyptic urgency.' Apocalyptic urgency is the all-consuming conviction that overtakes you when you realize that hell is real, and that it is within your power to help people avoid going there… Practically speaking, if everyone goes to heaven, why bother with Jesus at all? Why attend church? Why serve? Why tithe? Why share our faith with others? None of this makes any sense. Why would we do anything beyond that which makes us feel good? If there is no hell, then giving less than our best to our faith makes perfect sense." p.32-33
Hell Is Real is filled with humorous anecdotes that had me laughing often (usually when he's telling a story from his fundamentalists days, because I could usually related with them). Brian is a practical, conservative guy who is always brutally honest. This book would not stand up to strong critical examination, but it's not designed to. It assumes its position and then tells us that if we truly shared that view, we would quickly develop an apocalyptic urgency.